We are delighted to offer a rare large format edition of Charlie Waite's Val D'Orcia Study 1, Tuscany, Italy. Click below to hear Charlie Waite discuss this very unique moment captured on May 1st 1999, after 25 years visiting this ravishing landscape in central Tuscany.
Click here for details & to buy this rare large format edition of 25.
"Waite's landscapes are rare perfections of light, colour and composition and offer the viewer a luxuriant portrait of a planet at peace" Hugh Mooney.
"Over twenty-five years ago, while working in Italy, I chose to turn east from the Via Cassia towards Rome, and took a road no doubt familiar to many a local Tuscan, but not to me. I could never have known that over the next twenty years or so, I would be travelling by foot and car along both this road and every back road in the region perhaps more than a hundred times. This thirty kilometre stretch and the strada biancas that radiate to the north and south of it remains the loveliest areas of all Italy for me. Like an old misshapen lumpy mattress, this chalk and clay landscape is classic Tuscany. My recollection then was of dilapidated farmhouses crowning every bump, complete with a cluster of guardian cypress trees.
Now in the twenty-first century, the ramshackle farmhouses have been transformed into large mansions with perfect avenues of immature cypress leading up to perfect thresholds. Cranes on the brows of hills betray restoration of the few old houses that remain. A piece of my heart belongs to this ravishing landscape. To be up at 5am on a May dawn, especially after a night's rainfall, looking down and across the Val d'Orcia is utterly beautiful. When this image was made, there was a moment some half hour before sun up when the mist seemed to be like swirling chiffon, sometimes so dense that I was smothered. Within a moment or two it would become diaphanous, diffusing the early light. A 6cm x 17cm panoramic camera seemed fitting to use here. I deliberately chose to drop the hilltop into the middle of the image and the vast breadth of the panoramic camera allowed all the agreeable shapes and the recession of the distant hills to fall into place.
Looking at this image now, I sometimes wonder whether it was a fairy-tale setting and that I just happened to be there to see it manifest into reality...for a moment or two." Charlie Waite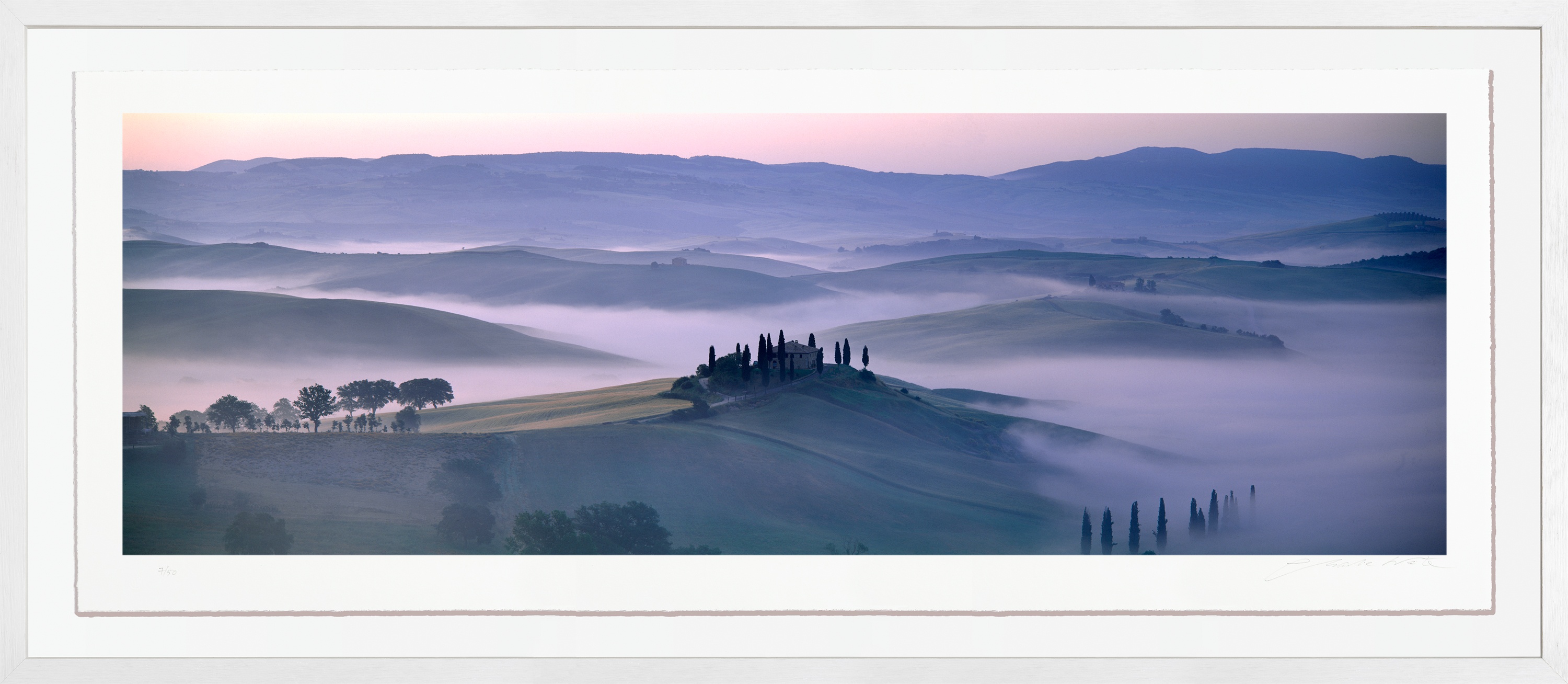 White Box Frame | Museum Glass | Edition of 25 | 212x86cm
July 2, 2019