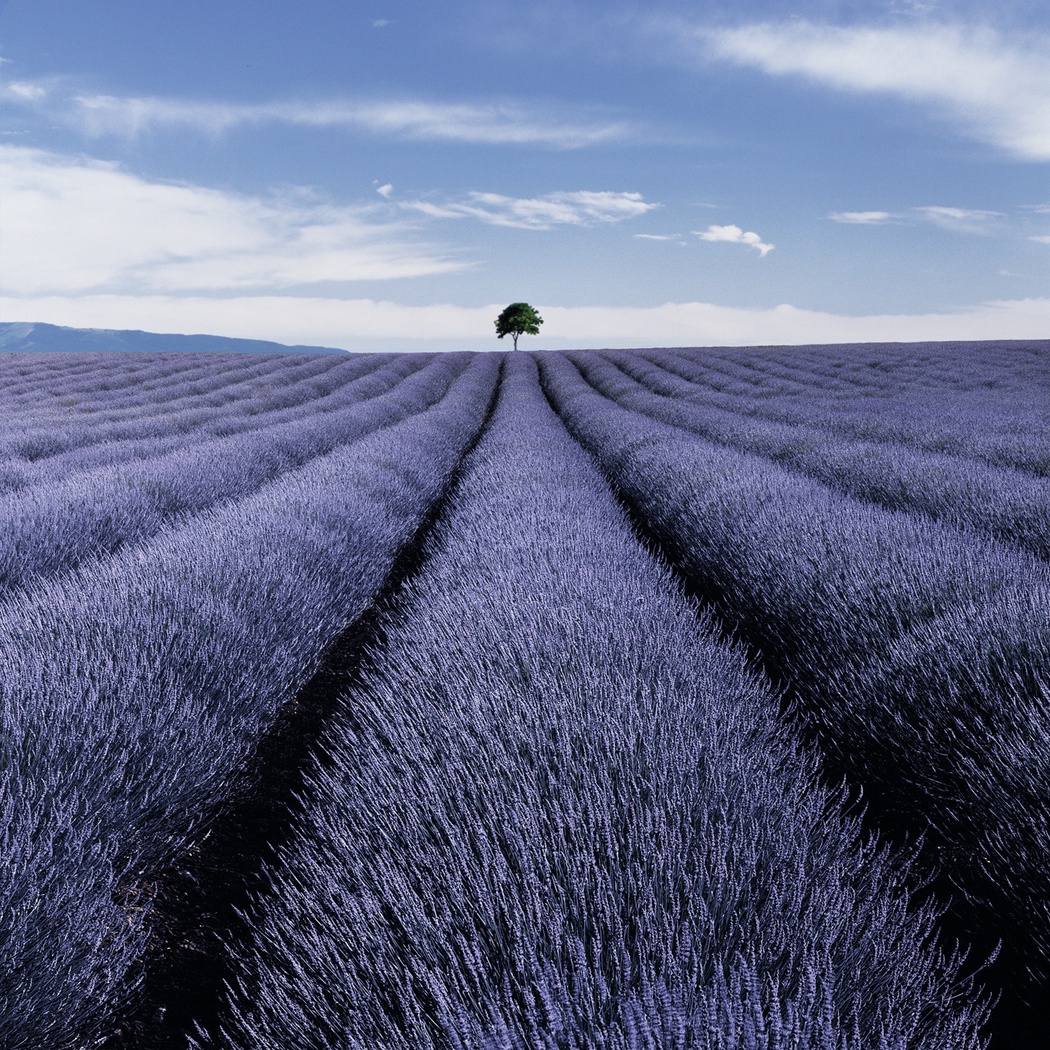 "I am indebted to a noble hotel receptionist for this photograph. I had been to this glorious plain in previous years and found that I was either too early or too late for the lavender. For landscape photographers, lavender will always keep you guessing and can be a capricious plant. There are times when one row will not come into flower while the adjacent row has done so, and this also applies to the start and end of the rows. The whole business is deeply frustrating. Having failed on more than five occasions, I decided to seek out an ally who would come to my aide and advise me when all the plants within the entire lavender plantation had caught up with the ones that had flowered early. Being more than fifteen hundred kilometres away, I felt that to have a lavender spy working for me would be a much better plan and would ensure a greater probability of success.
I was in readiness and well remember getting into a state of happy anticipation, when, as hoped, the call finally came. Like a spy delivering a coded message, the words on my answering machine said quite simply: 'The lavender is ready for you, Charlie,' and that was it. Within twenty-four hours I was away to Provence where I remained for a happy few days and then came home.
Looking back at any image, one is reminded sometimes of a wonderful bit of serendipity, or, conversely, something about the photograph that, at the time, I could do nothing about, but chose to tolerate. It is my view that compromise is best avoided with any creative endeavour, but, despite the numerous opportunities to 'tweak' an image that are now available to photographers using software, I have always preferred to do my level best to secure the image in camera. I was thankful for the soft unobtrusive shade of blue in the sky and the gentle clouds that were not seeking to attract any attention to themselves.
I look back on this photograph and rather wish that I had managed to achieve each gulley between the rows of lavender exiting out into the respective corners of the frame. I found it difficult but have chosen to blame the lavender farmers for not planting their lavender in straight lines."
Charlie Waite
Film FujiVelvia
Camera Hasselblad CWC
Lens 50mm
Exposure 1/15th sec f.22