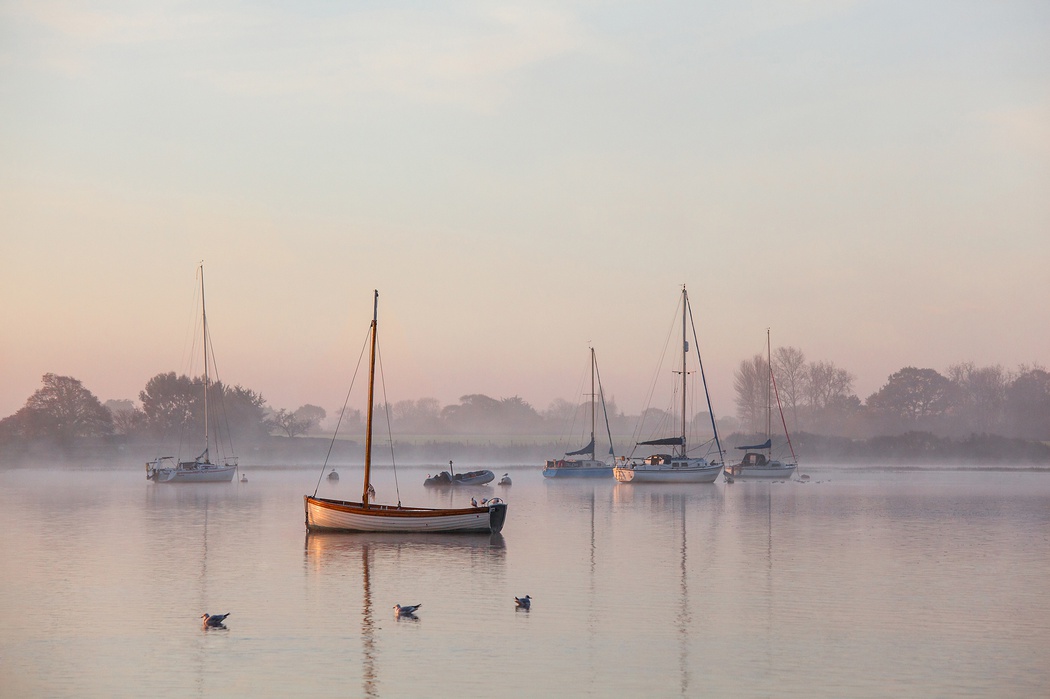 "What does it feel like to walk around Chichester Harbour on a freezing cold winter's morning? Despite the cold and damp, I find those still mornings are some of the best of the year. Every now and again the sun might break through the clouds for a fleeting moment or two, and the whole channel can look quite enchanting.
As the mist rolled in off the sea, I stood and watched a tiny ray of sunshine break through the clouds and illuminate just the bow of a single sailing boat. That splash of warm light felt like a ray of hope for the day ahead, so small and gentle.
People often ask when they see this picture 'Why is that boat in the foreground pointing in a different direction to the boats in the distance?' Normally when the tide comes in, you see, it pushes all of the boats around together so you'd expect them all to be facing the same way. Well, it's the height of the tide that is critical to achieving this unusual arrangement. The boats in the distance are actually in much deeper water. The boat in the foreground is in a shallower part of the channel and has only just risen off the seabed. It's on the turn, so to speak, about to be pushed around. When I captured this photograph, I was standing in the sea in waders enjoying some quiet time. The tide was coming in and the break in the light was quite unexpected.
It was an exciting time to capture the light popping through the clouds because there is a beautiful sense of depth and scale with the boats arranged like this. I love photographs where there are no unresolved issues for the eye and you can see a clean outline of all the elements within it, and none of the layers are fighting with one another." Luke Whitaker
Misty Morning, Bosham, Sussex, England 2012
Photograph by Luke Whitaker
Open Edition Printed On Aluminium
Anti-Reflective Matt Finish
Ready To Hang