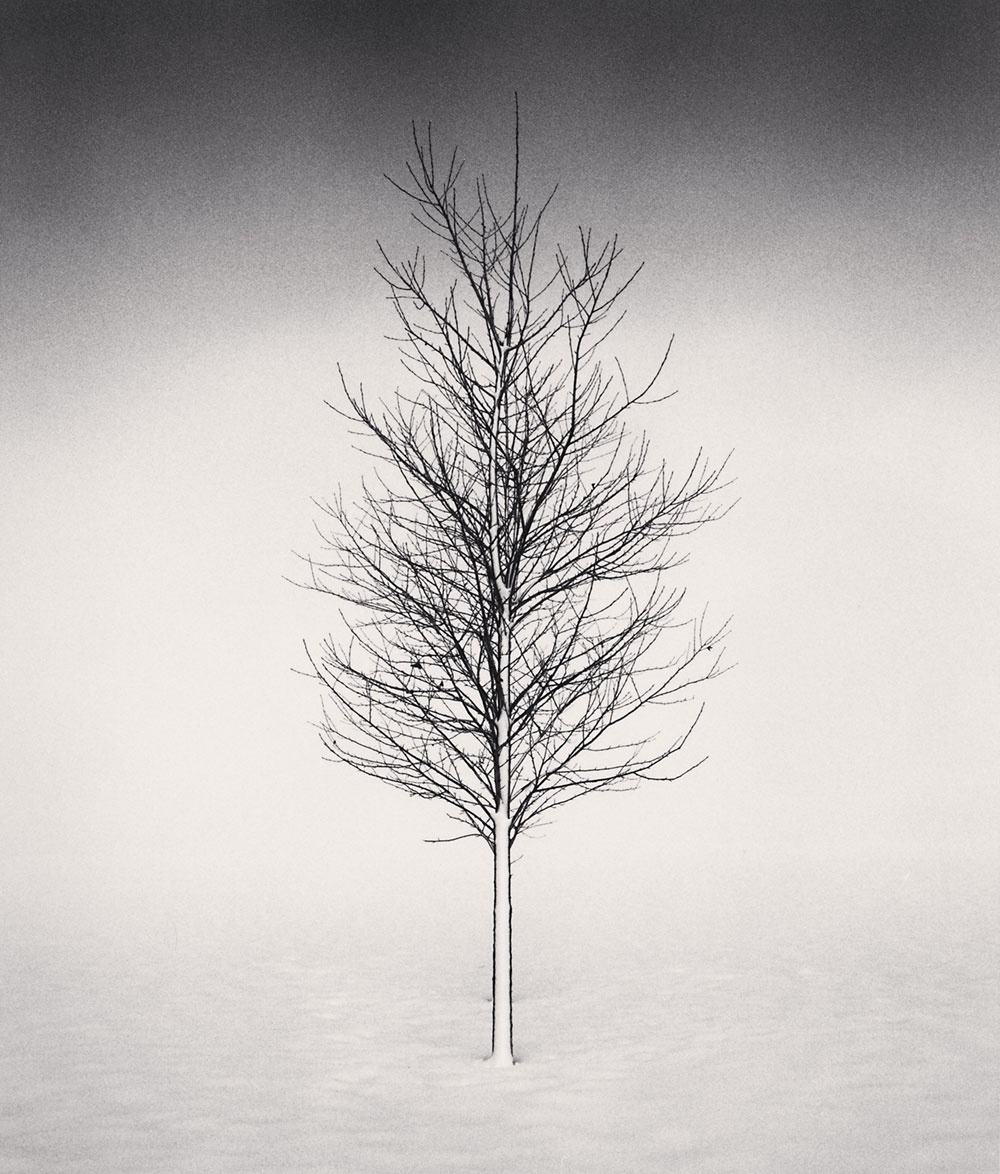 Michael Kenna has travelled the world to create his distinct black and white images of unpopulated landscapes. When he visits locations to explore photographic possibilities Kenna rarely previsualises his compositions and has few preconceptions about the duration of his stay. The intent of his artistic expression is to capture a location's 'genius loci', Latin for 'spirit of a place'. "I try not to make conscious decisions about what I am looking for. I don't make elaborate preparations before I go to a location. Essentially, I walk, explore, discover and photograph." He stays in a place for however long it is necessary to engage in a productive, intimate conversation with his subject matter, usually the landscape – hours could ultimately extend into days and often he revisits places year after year. During these interactions he is constantly observing, absorbing and responding to what he sees and experiences around him. He notes the importance of remaining open to possibilities during these sessions. "A degree of curiosity goes a long way. An acknowledgement that the process is about collaboration rather than ego has served me well."
It was in the mid-1980s that Kenna first began to visit Japan and became influenced by an Asian sense of aesthetics. In 2002 he started his love affair with the northern island of Hokkaido where his compositions became increasingly minimalistic and abstract, free from extraneous sensory information. There is a calm and tranquil gentleness to these photographs. Kenna often refers to them as haiku poems, suggesting rather than describing. You instantly feel you are having a dialogue with the artist, invited to share in the atmosphere of secrecy that Kenna presents; a silent exchange where the viewer feels free to interpret and experience based on personal experiences and idiosyncrasies.
Over the years, Kenna has worked heavily in Japan where his bold compositions have summoned the atmosphere of entire worlds by the inclusion of just a few elements, such as Tree Portrait Study 1, Wakoto, Hokkaido, Japan. 2002. With minimal competing elements, Kenna creates greater visual tension and stirs the imagination by offering the viewer a spiritual meditation. He delivers works that are akin to Japanese ink drawings comprising just two or three brushstrokes. These meditative studies are often regarded as Kenna's strongest photographs for the emotional hold that they place over the viewer. In the following interview extract we hear the story behind this iconic photograph which appeared as the cover of his Retrospective Two book, published by Nazraeli Press in 2004.
Luke Whitaker, 2021
"Perhaps I was more intrepid seventeen years ago, or I have just learned a few lessons in survival since. Driving solo in a Hokkaido winter is probably not something that I would attempt now. I discovered this tree, or more accurately these trees, while out one cold, early morning exploring around Kussharo Lake in north-east Hokkaido. Earlier I had spun my car around 360 degrees on an empty, frozen road. Later, I had to be pulled out of a snow-covered ditch by a passing truck. Between these moments of challenging driving I found some beautiful locations. One of which was Wakoto where these young trees were experiencing their first winters. I use the plural noun because the tree we see in the photograph has a smaller tree behind it. It is just possible to see the shadows of its tree trunk behind the front tree. As a result, the front tree appears to have more branches than would be normal. It had been a snowy night and the temperature was still a long way below freezing, so the young trunks themselves are still covered. I have revisited this location almost every year since and have now photographed the tree's growth for almost twenty years. The small tree behind has long since disappeared. I made the first prints of this first study in 2002 and began to exhibit them. The edition soon sold out.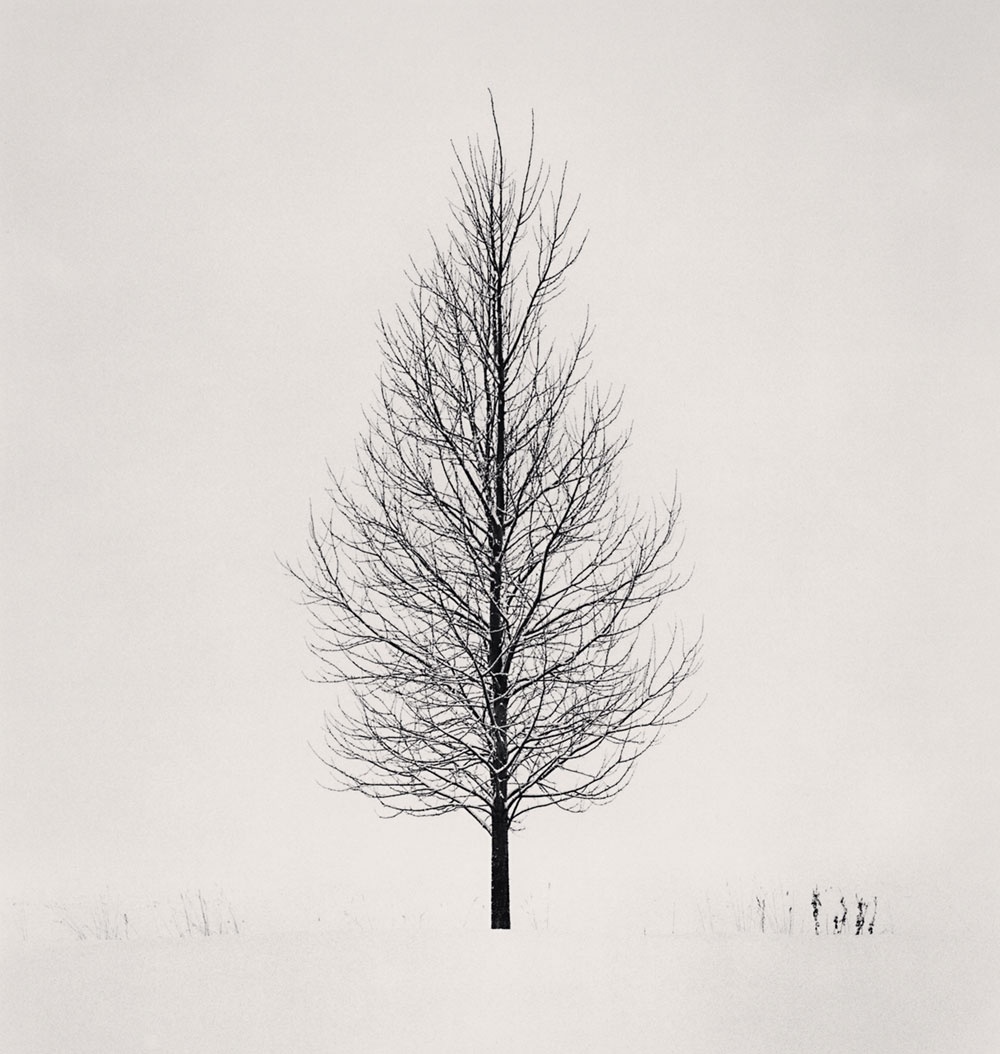 Tree Portrait, Study 5, Wakoto, Hokkaido, Japan. 2005
7 ½ x 7 ¾" Silver Gelatin Print
Limited Edition of 45 Prints | £2775 + VAT
Tree Portrait, Study 5 was made three years later when I was most fortunate to experience an exceptional 'white-out' morning. Heavy snow combined with minimal wind allowed me to make longer exposures which resulted in the background appearing shrouded in mist. The tree has obviously grown and my usual square format is becoming proportionately more vertical. That tendency would increase in each subsequent year. The phone snaps below were made during my visits between 2008 and 2019, and the erstwhile sapling is now a magnificent tree.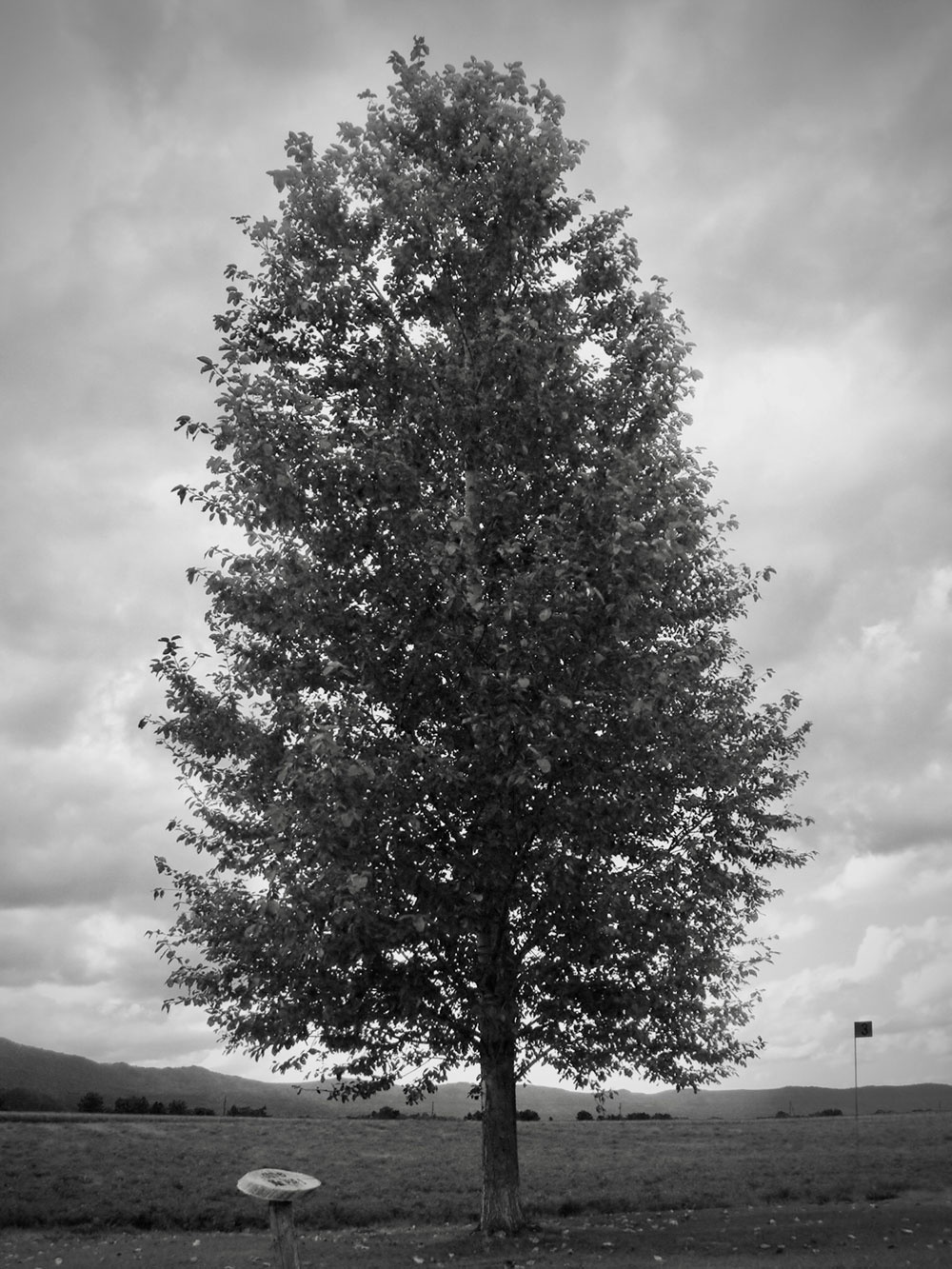 Summer. 2008
© Michael Kenna 2008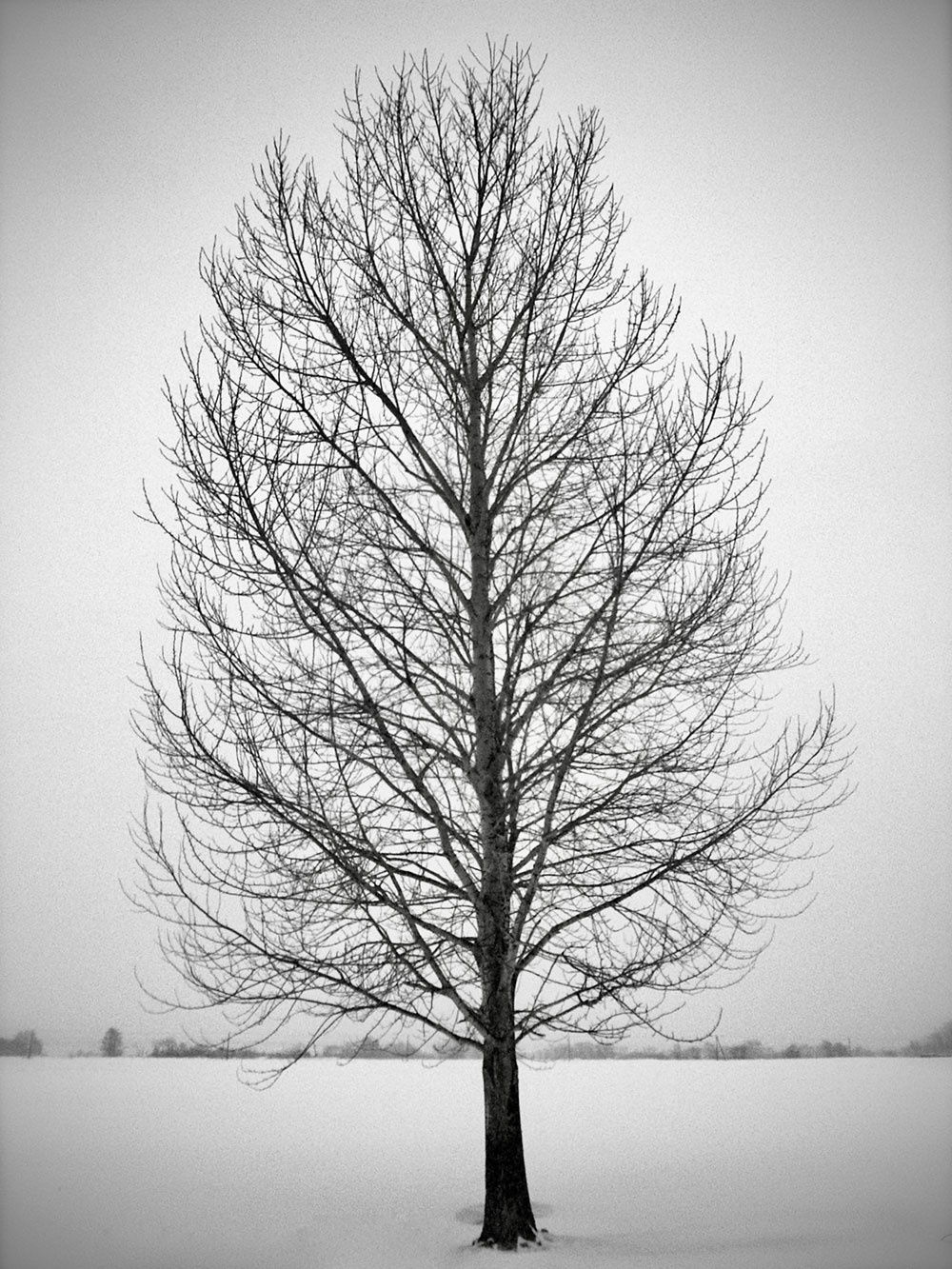 Winter. 2014
© Michael Kenna 2014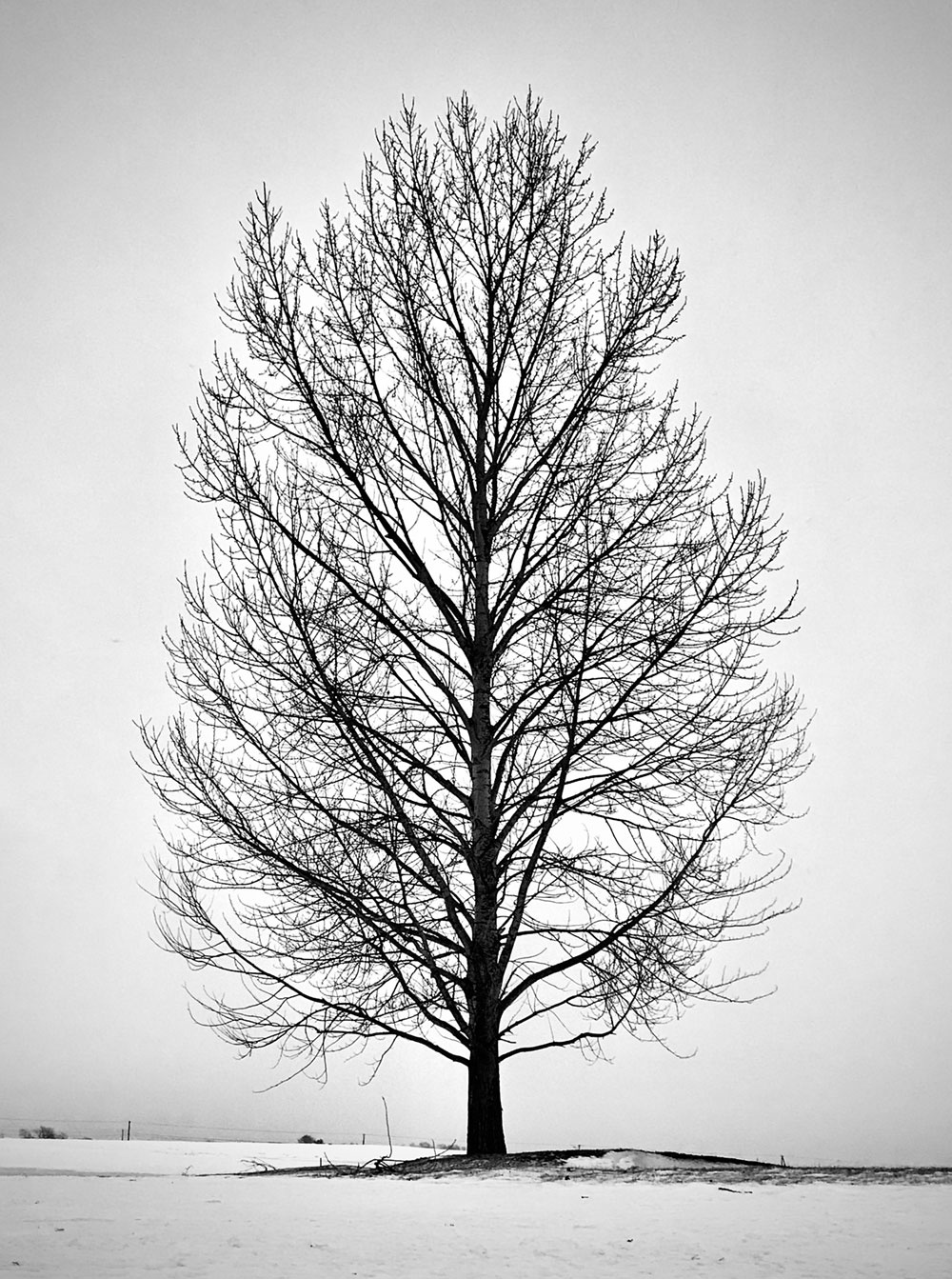 Winter. 2019
© Michael Kenna 2019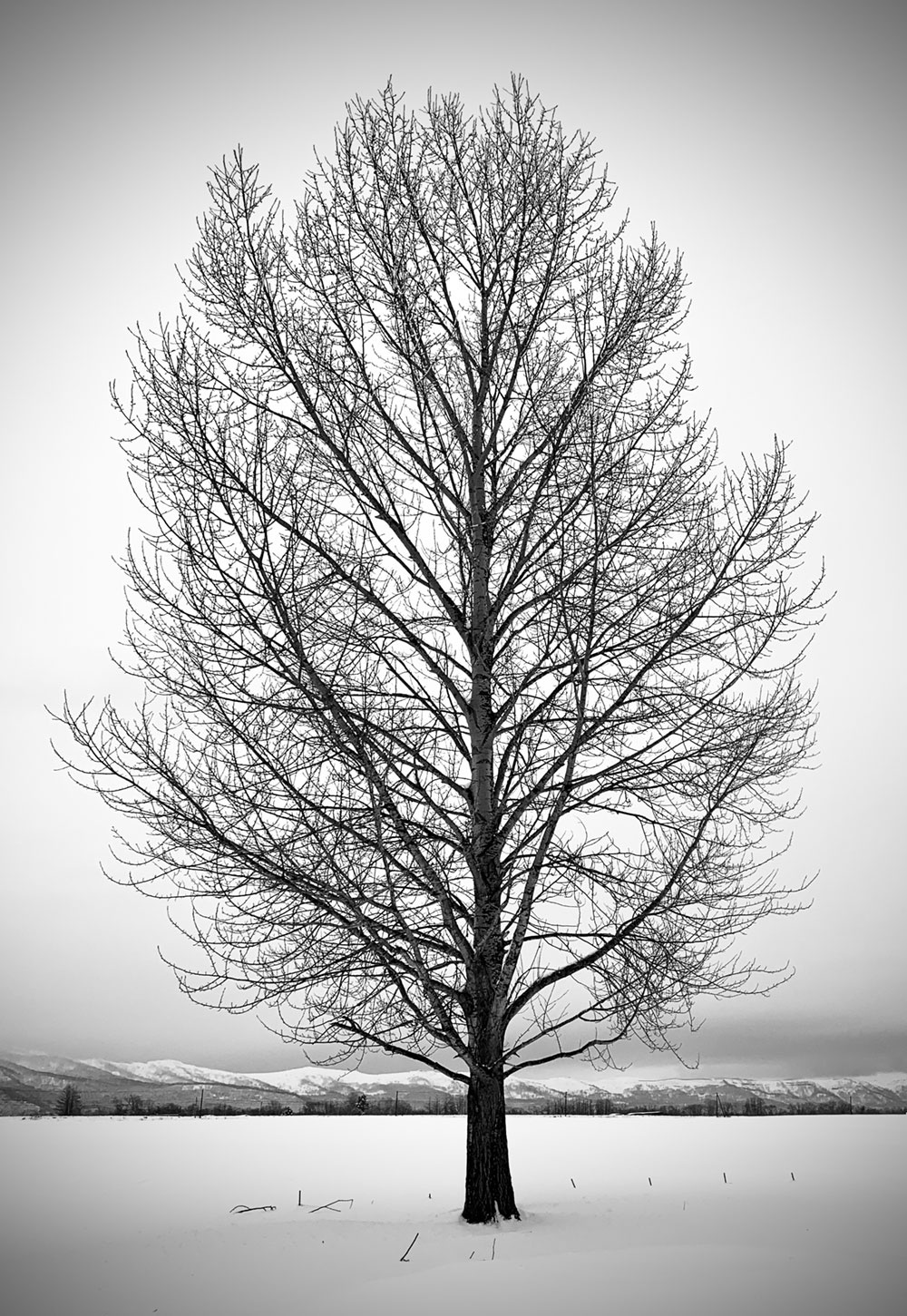 Winter. 2020
© Michael Kenna 2020
Due to various distracting elements in the background, I find that my normal point of view of this tree is from the ground. It is a bit cold at times, lying there in the snow, but unlike the tree, I get to go back to a warm hotel and have coffee and a hot shower later!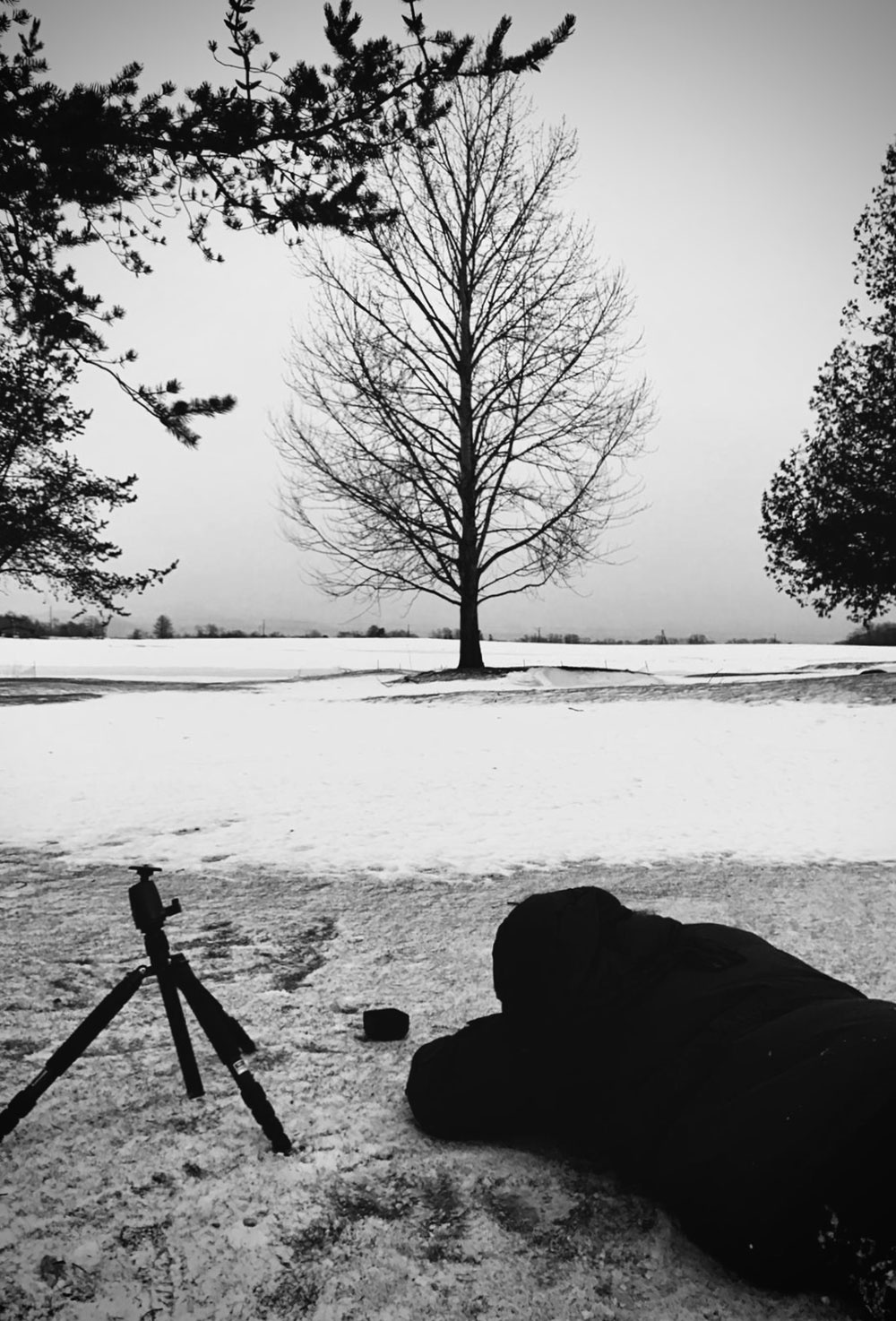 Michael Kenna Photographing in Hokkaido, Japan. 2019
© Sumant Gupta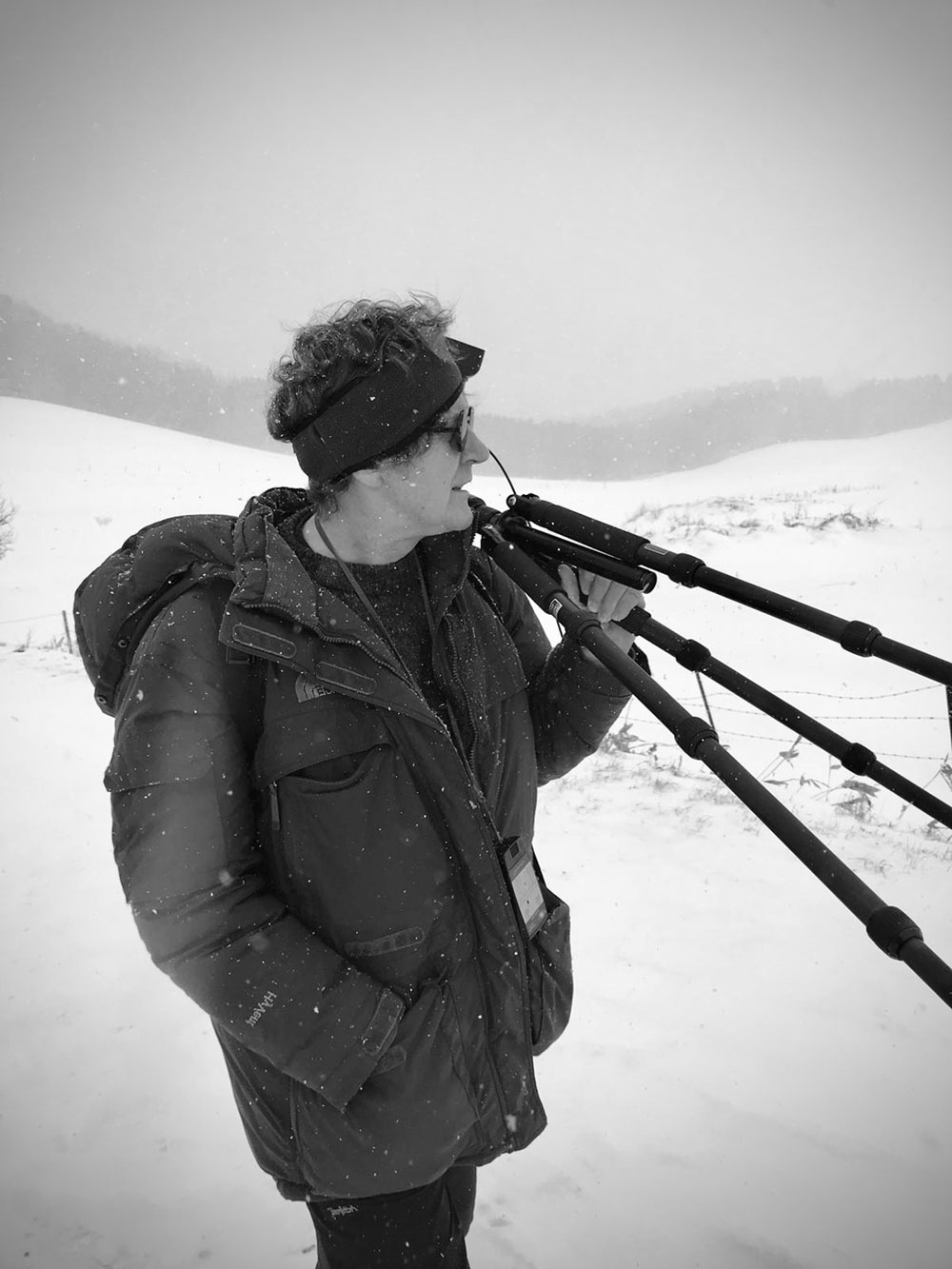 Michael Kenna Photographing in Hokkaido, Japan. 2019
© Sumant Gupta
I last photographed the tree in February 2020, just before the Covid pandemic stopped most travel for me, and I am greatly looking forward to our next meeting which is scheduled for early 2022. I envisage that I will eventually make a series of prints and perhaps a small book documenting our ongoing conversation." Michael Kenna 2021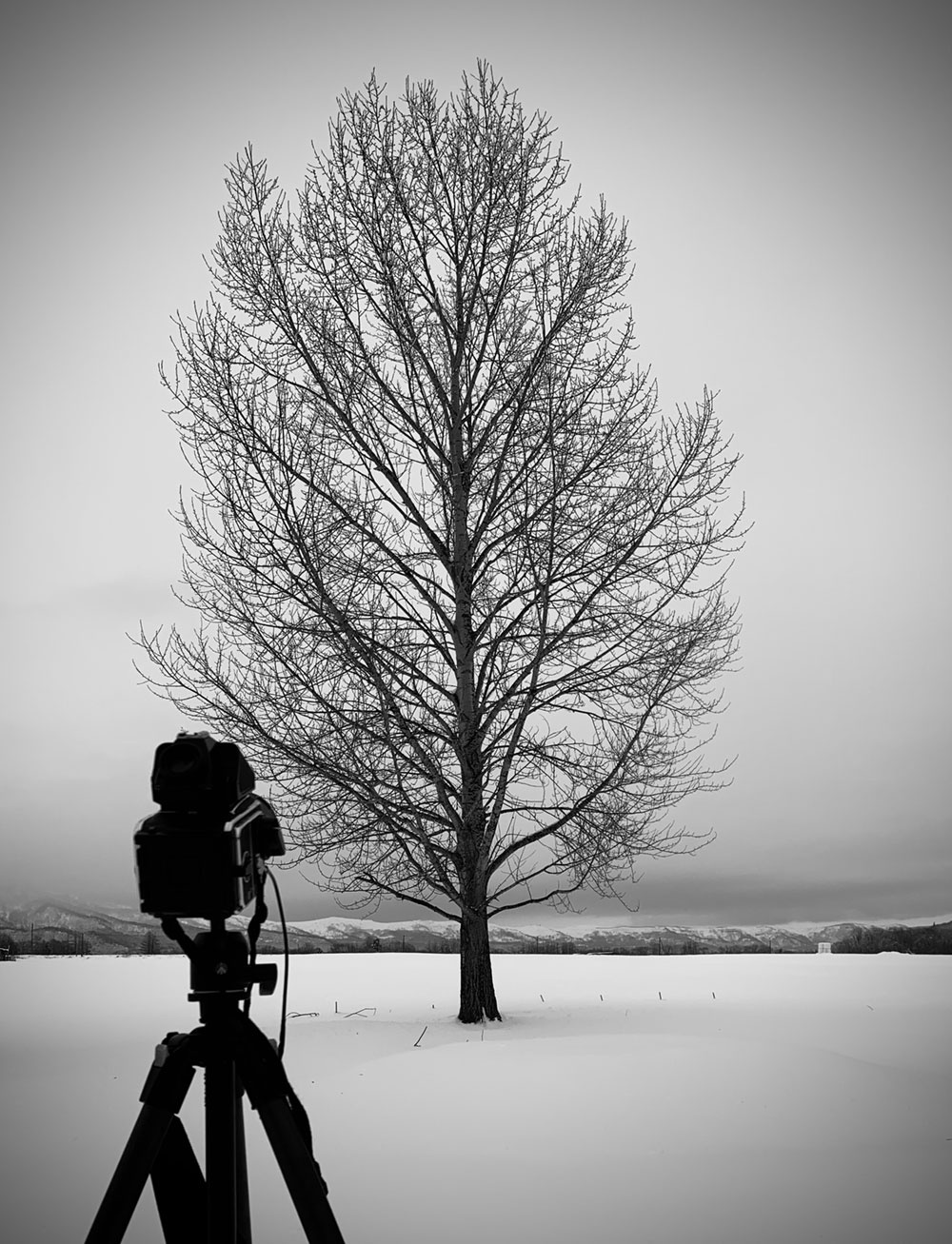 Michael Kenna's Camera In Hokkaido, Japan. 2020
© Michael Kenna 2020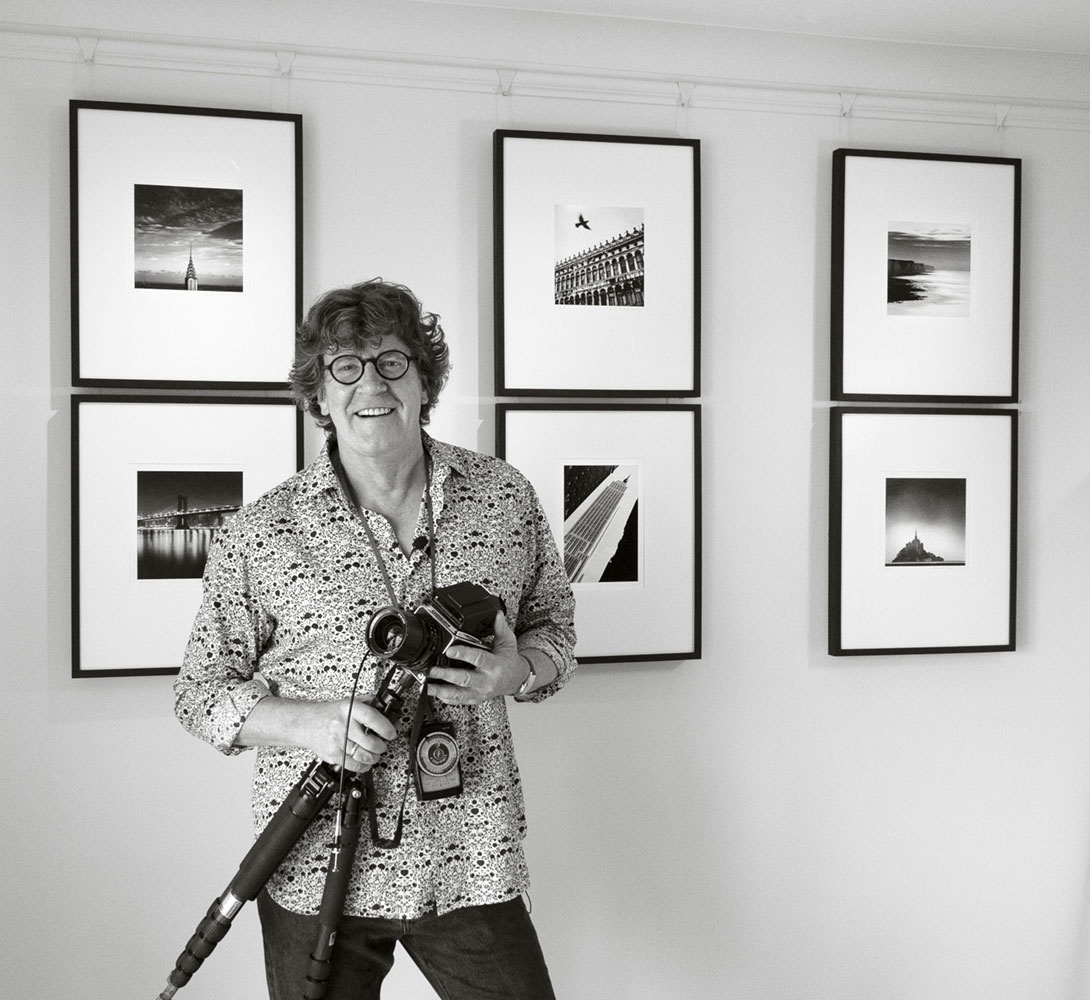 Michael Kenna At His Bosham Gallery One-Person Exhibition In 2019
Michael Kenna is one of the most acclaimed photographers of his generation with a truly global audience for his work. He has held over 475 solo exhibitions in 40 countries and his photographs have been the subject of over 70 monographs. To date his prints are held in the permanent collections of over 100 museums worldwide.
Kenna was born in 1953 into a working class Irish Catholic family in Widnes, Lancashire, England. From an early age he aspired to be a Catholic priest and, aged 11, began studying at a seminary school. However, art quickly became his strongest subject and at the age of 18 he moved to Banbury, Oxfordshire and studied at the Banbury School of Art. He explored drawing, painting, print making and photography, before going on to specialise in photography at the London College of Printing. Initially, Kenna concentrated on commercial work, however, he soon turned to the landscape after seeing the work of Bill Brandt, Josef Sudek, Eugène Atget and Alfred Stieglitz, who were highly influential to him. READ MORE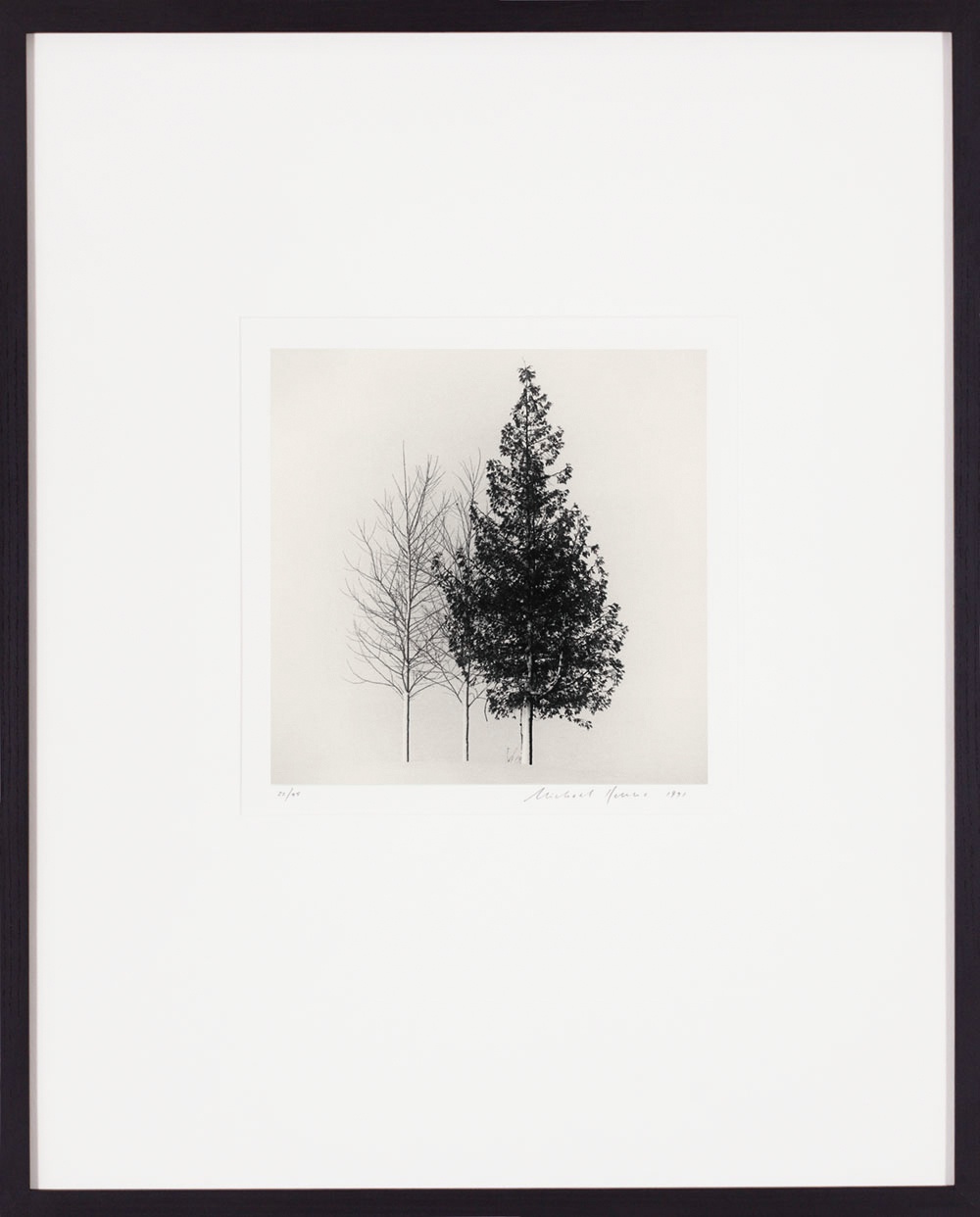 Tree Portrait, Study 4, Wakoto, Hokkaido, Japan. 2002
7½ x 7 ¾" Silver Gelatin Print
Limited Edition of 45 Prints | £3150 + VAT
HANDMADE SILVER GELATIN PRINTS BY MICHAEL KENNA
8 x 8 inch hand-made silver gelatin prints of Michael Kenna's early works are available in limited editions of 45 prints. Print prices start at GBP 2,000 and rise to GBP 7,700 for edition number 45. Occasionally, Artist Proofs are available to acquire and prices start at GBP 20,000. New works made from 2019 onwards are available in limited editions of 25 prints. Silver gelatin prints are matted and mounted on archival 16 x 20 inch mountboard and framed in a 0.6 inch hand-painted black oak moulding behind museum glass. Michael Kenna signs and editions each mountboard below the print and includes the year the photograph was made after his signature.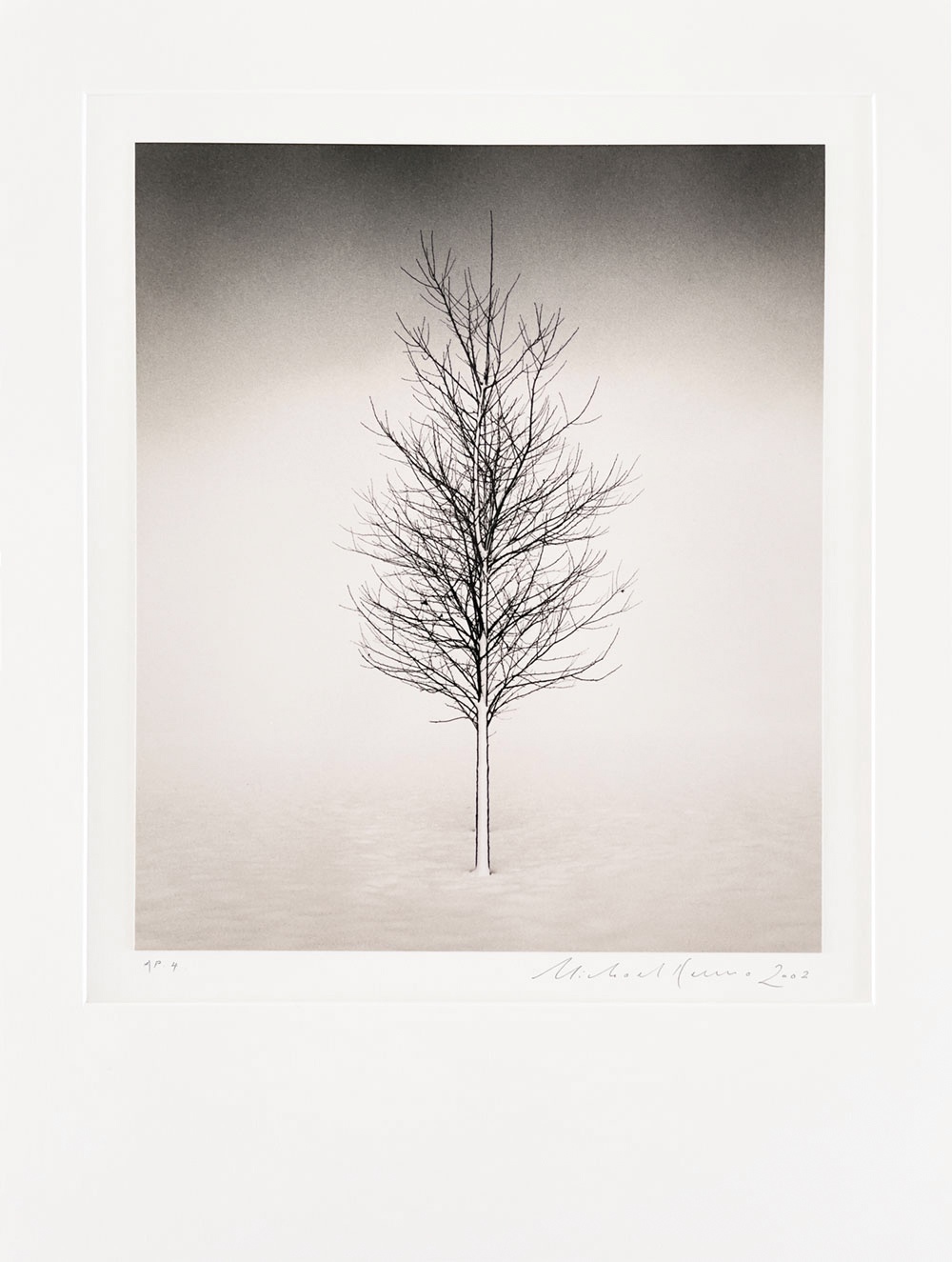 On the reverse of each 16x20 inch mountboard Kenna includes the photograph's title, the year the photograph was made, the year the print was made, the edition number, the edition size and artist signature.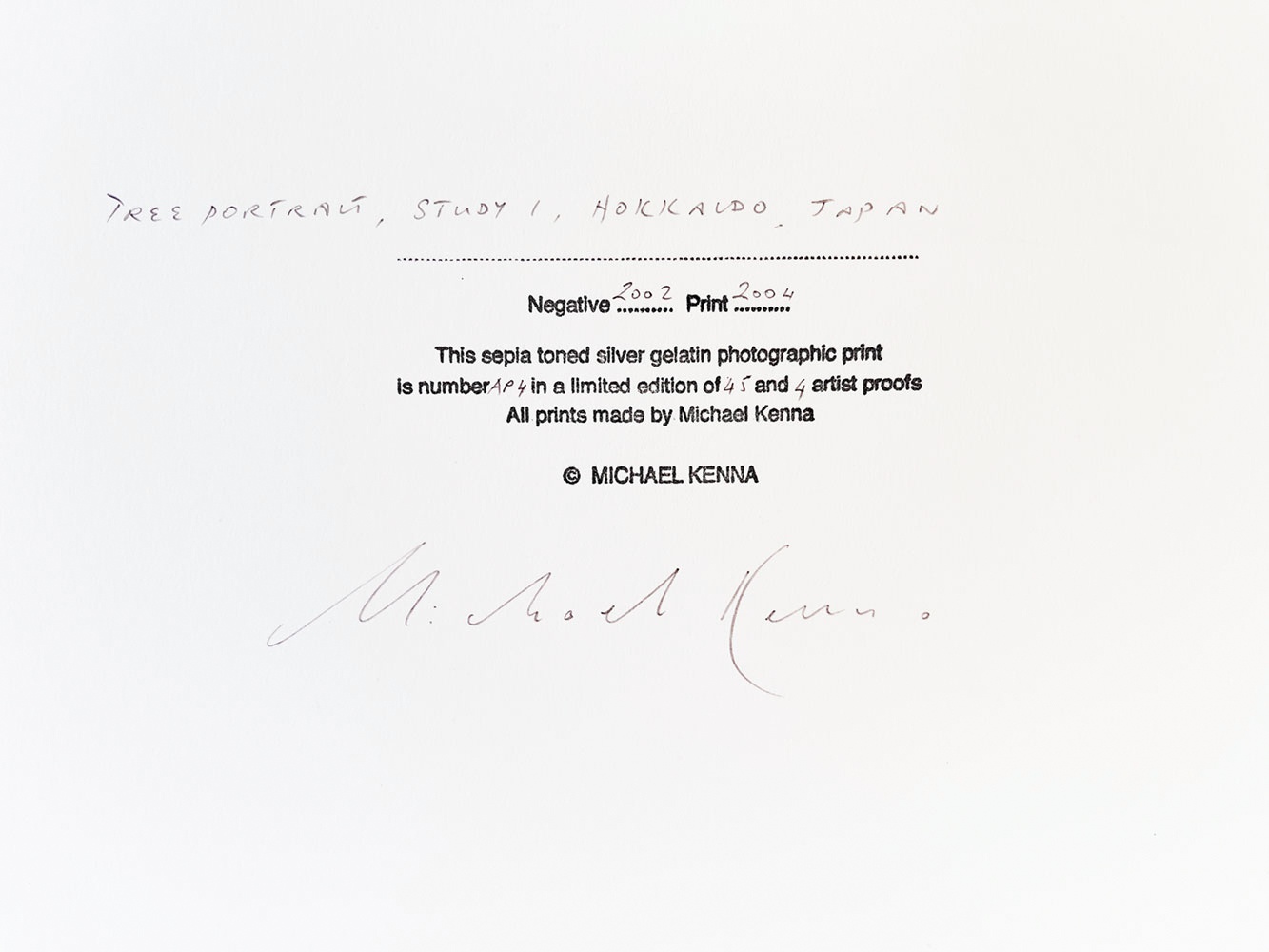 PRINT PROVENANCE
Michael Kenna's prints have a distinguished provenance. Since the start of his career in the 1970s Michael Kenna has worked solely with film, and he makes every silver gelatin print himself personally, in his darkroom at his home studio in Seattle, USA.
"Because these prints are made in my darkroom by hand it is not a push of a button that allows me to make 25 prints. Each print is absolutely individual, they have a lot of burning and dodging, so there are slight variations. Every print is unique in fact, and it's good to know that these are archival prints, they should outlast myself and the viewer. I have prints that are 45 years old that are as good as when I made them 45 years ago.
All of my work is in black and white and it's still silver gelatin printing. I fell in love with this printing process right from the beginning of my career in photography, and I maintain that I make every single print. The prints are retouched by hand, they take many, many hours and it's a long, arduous process. I still believe it's a very beautiful process because the prints come out almost like jewels, they are three-dimensional and the image is embedded in the silver gelatin. Pigment prints are very good, but for me the silver print is the thing in photography." Michael Kenna, 2021
PRINT ENQUIRIES:
Luke Whitaker, Director
Bosham Gallery, 1 High Street, Bosham, Sussex, PO18 8LS, England
luke@boshamgallery.com | +44 (0)1243 681271 | boshamgallery.com
Please note print prices increase as Michael Kenna's limited edtions sell out. Prices are correct as of the time this article was published.
Have you enjoyed this article? Please leave your comments below...