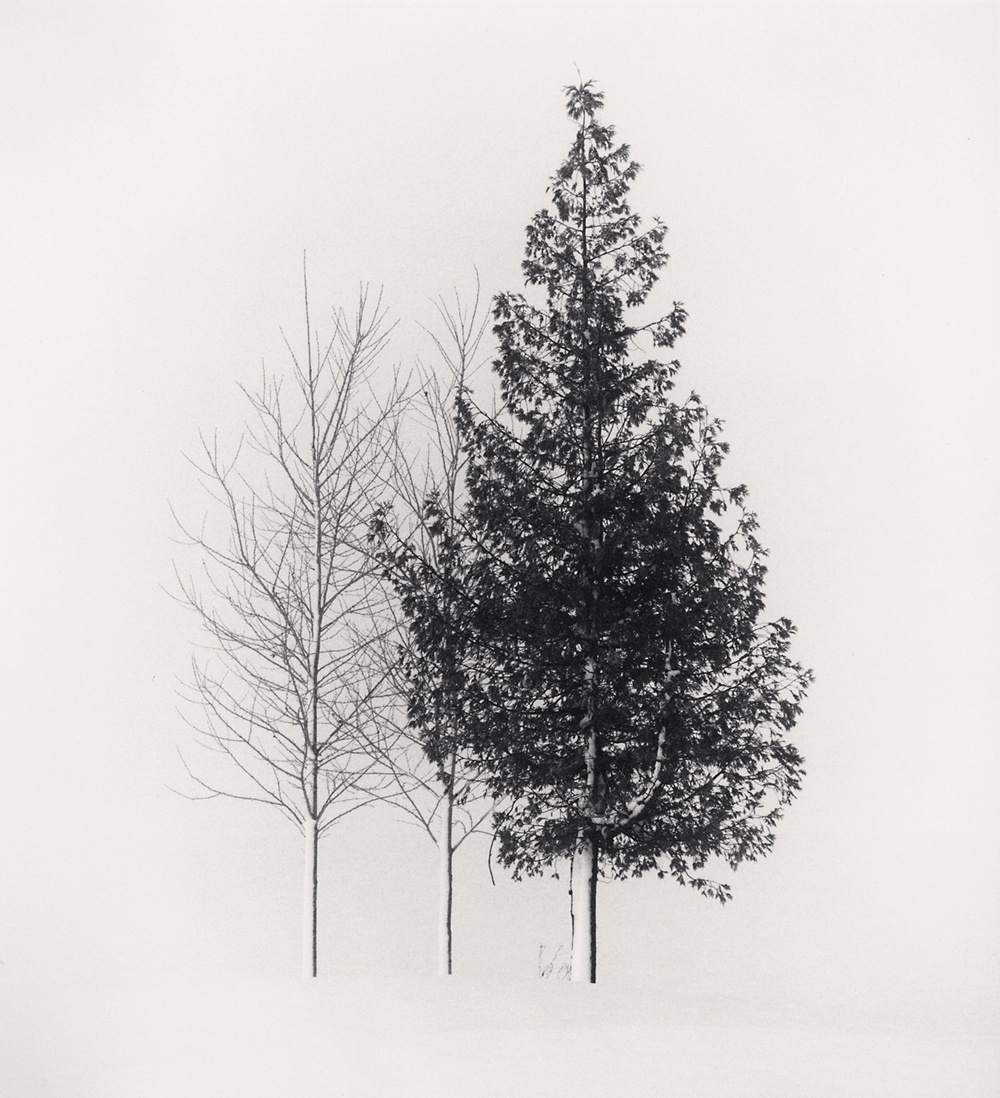 "I left my hotel in northeast Hokkaido well before first light and drove along dark, icy roads to the Kussharo Lake location I had scouted the previous day. En route my car made an uncontrollable 360-degree skid, but happily ended up facing forwards again after bouncing off two walls of snow. This was a few years before I was smart enough to find a guide with a four-wheel drive and long experience of these harsh conditions. Exiting the car, I was almost blown off my feet, and it only took a few minutes before I was drenched and very cold, but I happily worked quietly and alone for a few hours before deciding to head back to my hotel for a hot onsen bath and late breakfast. Driving slowly and cautiously now, I noticed a field with groupings of young trees, and I decided to wait for brunch instead. Trudging through waist deep snow without snowshoes is not so easy, but these trees were calling me. I have a tendency to anthropomorphize what I encounter on my travels, and was delighted to come across this young family - a slightly older coniferous alongside two younger deciduous saplings. I imagined an intimate, protective relationship, almost parental. After a polite "ohayō gozaimasu" (hello), I asked permission to photograph. The night (and morning) had been absolutely freezing, and while I worked, fresh horizontal snowfall was still coating the tree trunks. Most of my pictures were made from low angles - I couldn't get much higher even if I wanted to. The result is a minimal rendition of dark lines and shapes on a white background, somewhat resembling a Sumi-e ink painting as much as a photograph. I thanked the trees and promised to visit them again when I could. It turned out to be a few years later, at which point they were barely recognizable. They had grown tall, were surrounded by other trees and seemed to enjoy each other's company more than mine. That sometimes happens, and I consider myself very fortunate to have met and photographed this charming group of trees when I did." Michael Kenna. August, 2021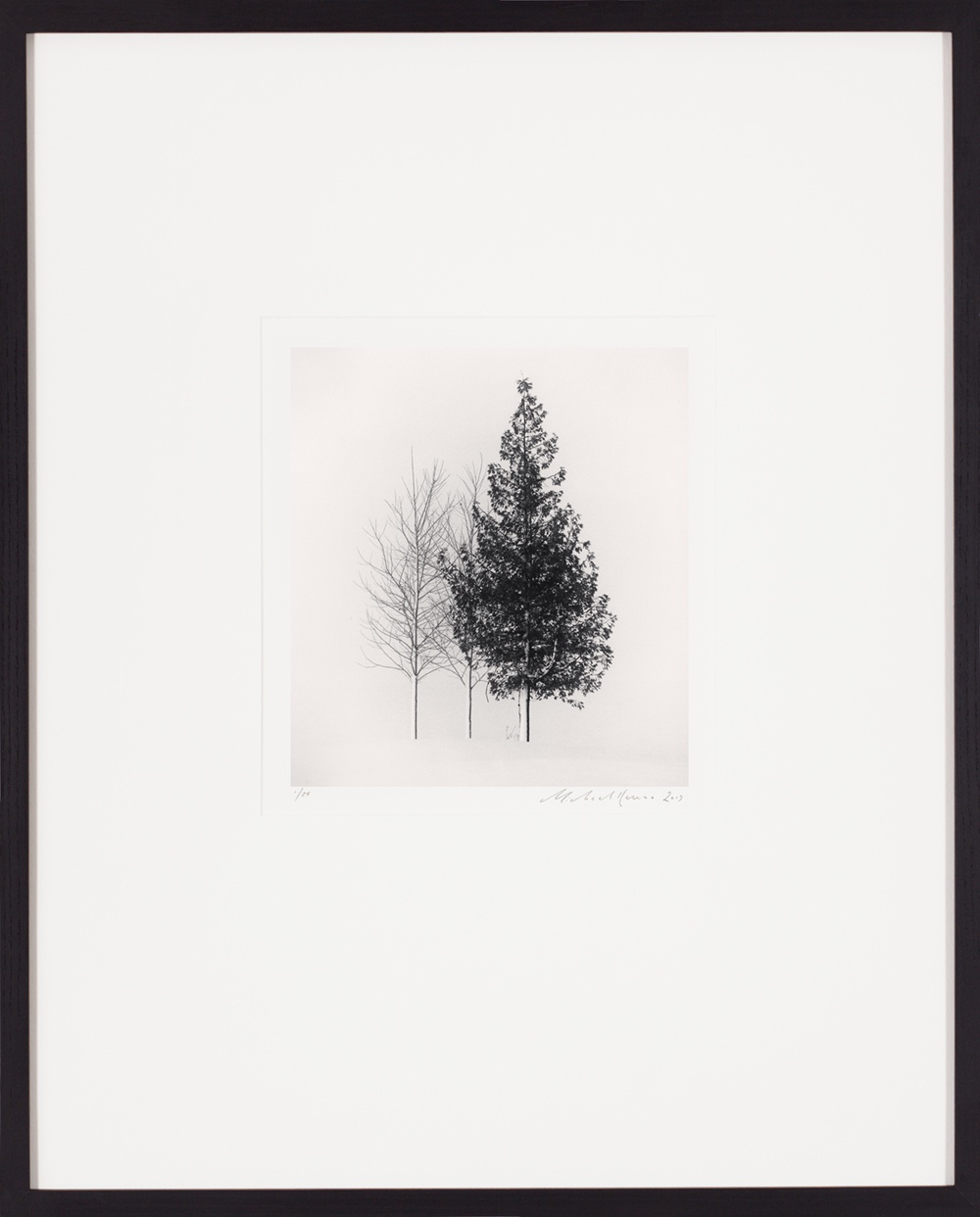 Silver gelatin prints are matted and mounted on archival 16 x 20 inch mountboard and framed in a 0.6 inch hand-painted black oak moulding behind museum glass. Michael Kenna signs and editions each mountboard below the print and includes the year the photograph was made after his signature.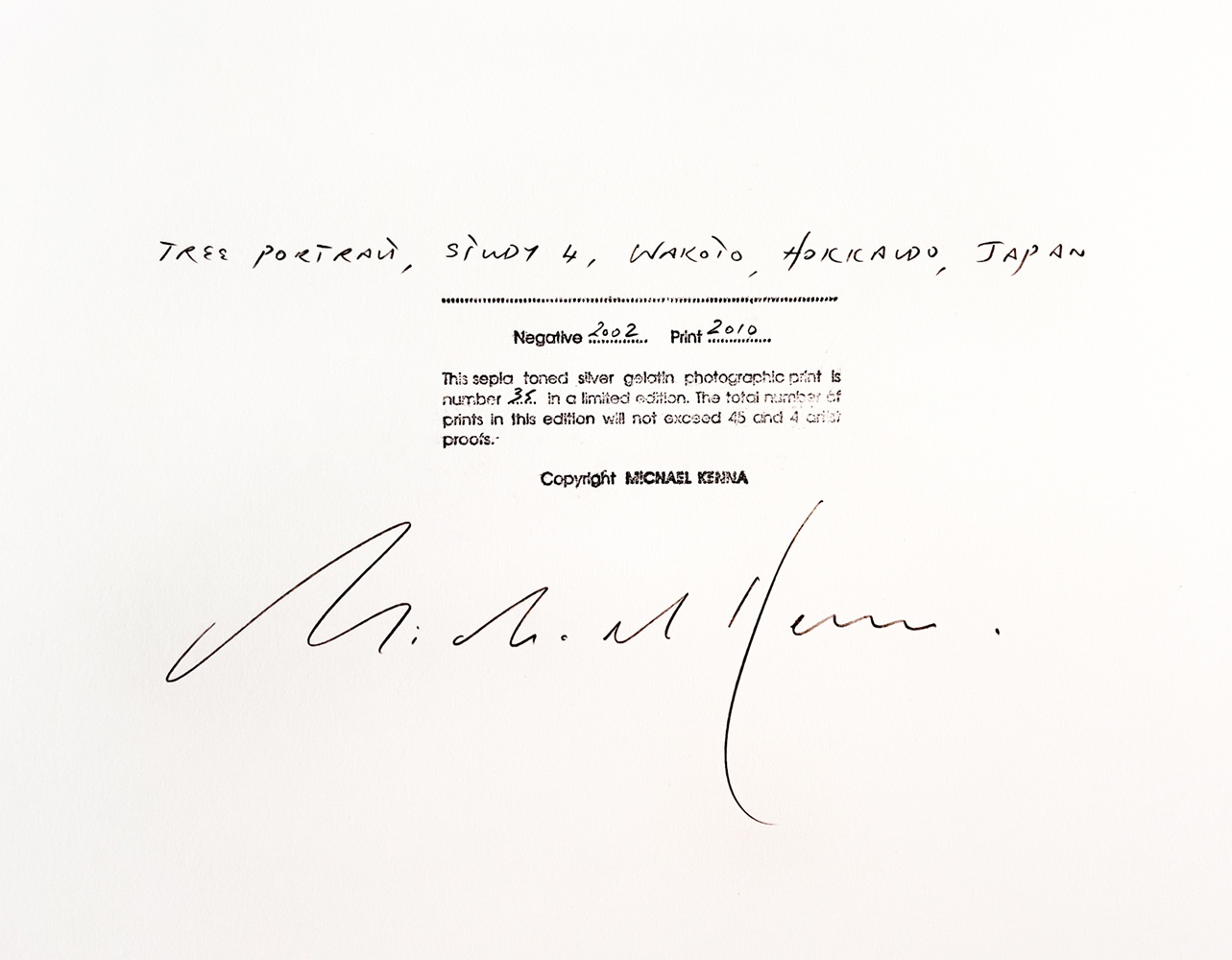 On the reverse of each 16x20 inch mountboard Kenna includes the photograph's title, the year the photograph was made, the year the print was made, the edition number, the edition size and artist signature.
Silver Gelatin Print
Limited Edition of 45 Prints
7.5x7.75"
You might also enjoy:
Tree Portrait Study 1, Wakotoa, Hokkaido, Japan 2002
Picture | Story by Michael Kenna HERE