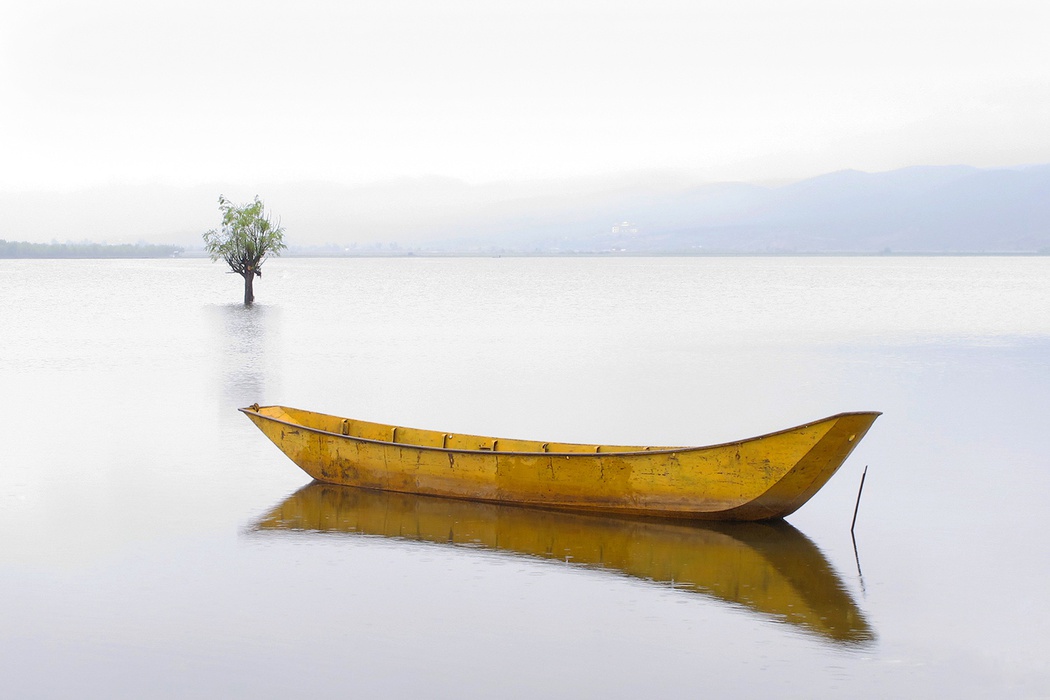 The bleak weather was a blessing when this photograph was made. Had there been a monotonous blue sky, familiar white clouds and more definition along the far bank, it would have given the whole scene an entirely appropriate prettiness with neither mood nor atmosphere. The rear of the image too needed to have an anonymity, and just enough definition to limit the distance the eye travelled, with no particular detail or reference points.
The light rain with associated mist helped to convey the solitary nature of the yellow hull against a vague, nondescript backcloth. I particularly liked the aluminium look of the water which the rain helped to diffuse away from a more perfect, too sharply defined reflection.
From that day forth, I have yet to see another hull of a boat painted in such a wonderful mustard yellow. The shape of the metal-hulled boat was unfamiliar to Western eyes, and I was glad to be able to achieve sufficient height to see the ribs on the far side. One foot lower and the hull might have looked stuck on the water. Even the small stick seemed to strike through the water at just the right place.
The tree could occupy no other possible position on the canvas except to stand precisely in line with the stern of the boat, while the shadow it cast just nicked the top of the boat's transom. Thus, with their shared isolation, there seemed to be an unspoken dialogue between the two.
Charlie Waite
Film Digital Camera Canon EOS 5D
Lens 28mm
Exposure 1/60th sec f.8