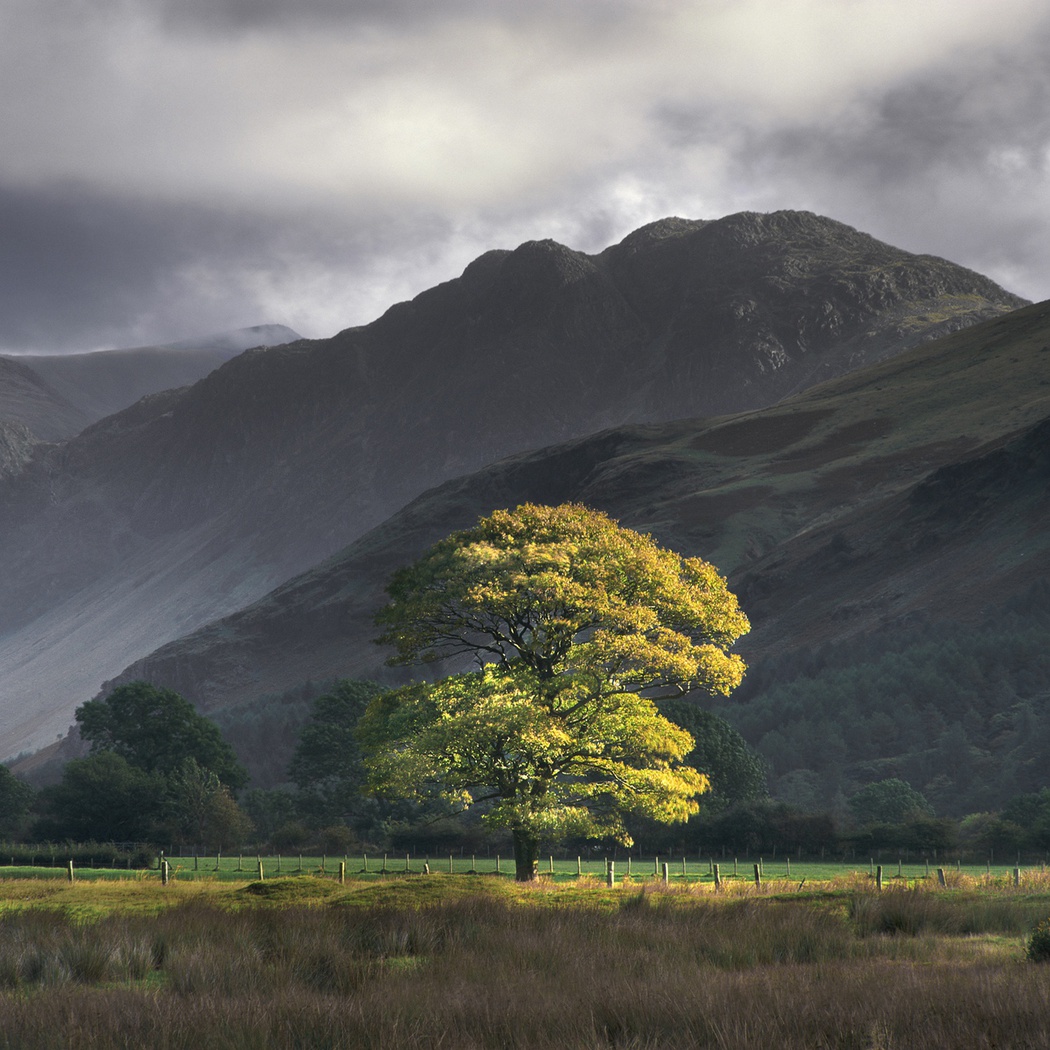 I have always had a dislike for the chainsaw, which is probably irrational and makes little sense. Perhaps it is simply that the chainsaw can so rapidly end the life of a tree which may perhaps have been standing for three hundred years more than the age of the operator. It is entirely emotional of course but I wince with the sound of any chainsaw.
I am not the first landscape photographer to be drawn to the single tree. These single tree images have even been perennially popular, and little wonder. My Buttermere tree presented itself proudly and seemed not so much lonely as confident, noble and stately. Every time I look at this photograph, I am so thankful that I took my small stepladder with me. It would have been impossible to make this photograph without the refinement that using the stepladder allowed. I had seen the two major sloping hills beyond and the smaller one at the back of the photograph. It was the front slope that mattered. Without some extra height, the top of the tree would have nicked that first slope directly behind the tree, as would the top of the green tree in the bottom left corner. It may seem an inconsequential thing, but once I had locked onto the conflict of the tree bisecting the sloping hill, I knew it would haunt me unless I ran to get my ladder from the car. It seems to me that a greater sense of depth and continuity is promoted where distant lines of layers and folds in the landscape are not, ideally, interrupted by any vertical. There are many times when this is not possible. My concern is merely that the 'tip' of a spire or tree should ideally not penetrate the next layer of the image. I am fully aware that this is my own peculiar foible. But we all know that depth along with continuity of line help to mitigate the two-dimensional nature of photography. I enjoyed the top right-hand slope matching the angle and outline shape of the highest hill above in the right quadrant.
It was something of a game between the clouds and me while, for nearly an hour, they conspired to deny me the stab of light that I wanted. Finally, for a mere few seconds, the tree acquired its deserved nobility and stature as the sun honoured it with oblique, warm, early autumnal light. The often-compliant clouds truly gave me a break and very conveniently delivered a perfect shadow to subdue the rather nondescript foreground as a narrow band of clear sky was allowed to move into position, courtesy of the amenable clouds, and deliver the much-needed hard sunlight. I am ashamed to admit that on departure, I turned and waved goodbye to my tree.
Charlie Waite
Film Fuji Velvia
Camera Hasselblad CWC
Lens 50mm
Exposure 1/8th sec f.22